We're excited to organize another Real-World PIM tutorial, this time at ISCA 2023 in Orlando!  In case you missed our tutorials at
ASPLOS 2023
or
HPCA 2023
, join us for this one in June, or join us again for new lectures, invited speakers and more in our hands-on lab!
---
ISCA 2023 Tutorial: Real-world Processing-in-Memory Systems for Modern Workloads
Sunday, June 18 (held during ISCA 2023, June 17 – 21, 2023 in Orlando, Florida).
You can join our tutorial in person or online (Livestream Link).
Tutorial Website: https://events.safari.ethz.ch/isca-pim-tutorial/
ISCA 2023 Workshops and Tutorials: https://www.iscaconf.org/isca2023/program/workshops.php
Tutorial Overview: 
Processing-in-Memory (PIM) is a computing paradigm that aims at overcoming the data movement bottleneck (i.e., the waste of execution cycles and energy resulting from the back-and-forth data movement between memory units and compute units) by making memory compute-capable.
Explored over several decades since the 1960s, PIM systems are becoming a reality with the advent of the first commercial products and prototypes.
A number of startups (e.g., UPMEM, Neuroblade) are already commercializing real PIM hardware, each with its own design approach and target applications. Several major vendors (e.g., Samsung, SK Hynix, Alibaba) have presented real PIM chip prototypes in the last two years.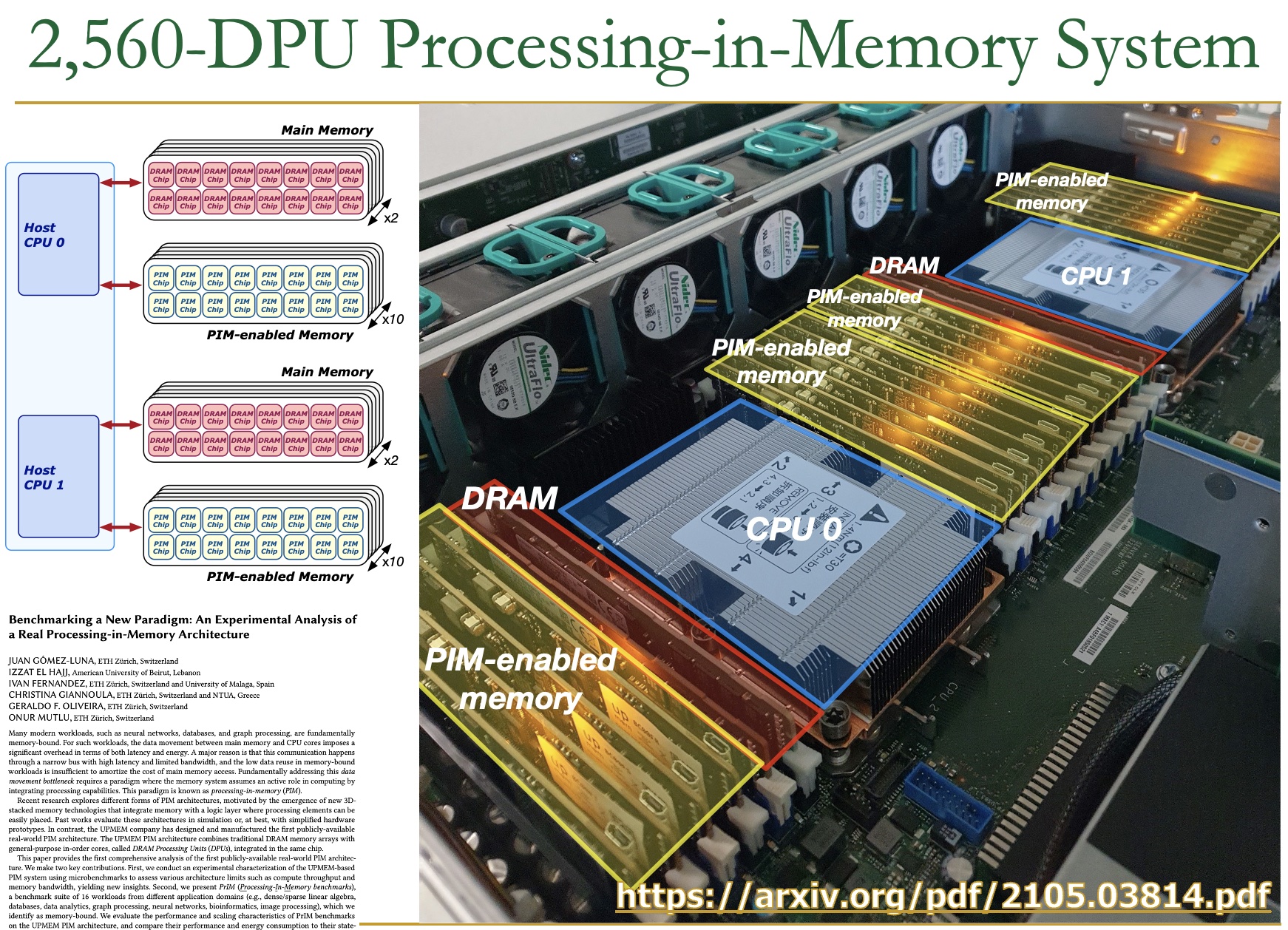 Most of these architectures have in common that they place compute units near the memory arrays. But, there is more to come: Academia and Industry are actively exploring other types of PIM by, e.g., exploiting the analog operation of DRAM, SRAM, flash memory and emerging non-volatile memories.
PIM can provide large improvements in both performance and energy consumption, thereby enabling a commercially viable way of dealing with huge amounts of data that is bottlenecking our computing systems. Yet, it is critical to examine and research adoption issues of PIM using especially learnings from real PIM systems that are available today.
This tutorial focuses on the latest advances in PIM technology. We will (1) provide an introduction to PIM and taxonomy of PIM systems, (2) give an overview and a rigorous analysis of existing real-world PIM hardware, (3) conduct hand-on labs using real PIM systems, and (4) shed light on how to enable the adoption of PIM in future computing systems.
Organizers: Juan Gomez Luna, Onur Mutlu, Ataberk Olgun
Tutorial Website, preliminary program: https://events.safari.ethz.ch/isca-pim-tutorial/
Livestream on YouTube (Link)
Invited Speakers (coming soon)